Salt-Lick T-Shirt
SLTS03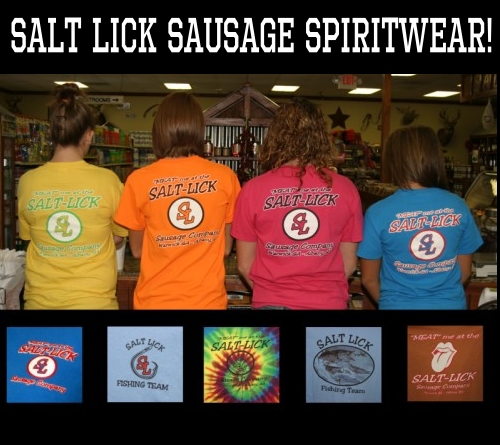 A lasting taste of Salt Lick Sausage! With our variety of T-Shirts, we're sure to have one that fits your style.
Our standard shirts have the Salt Lick Sausage logo on the back. We also carry limited stock of the Fishing Team design and the open mouth design. If you would like to request one of those designs, please check with us first for availability and then mention this in the notes section.
T-shirt availability is limited. Please call us at 229-535-6328 to make sure we have your desired color and size before placing your order online.
Color
Red (0) White (0) Black (0) Pink (0) Lime Green (0) Blue (0) Yellow (0) Orange (0) Tie-Dye (0)
Size
Small (0) Medium (0) Large (0) X-Large (0) XX-Large (1)
During the Summer, we limit the range of ground shipping to preserve product freshness. We apologize for any inconvenience.