Sausage and Jerky Gift Box
giftsaujer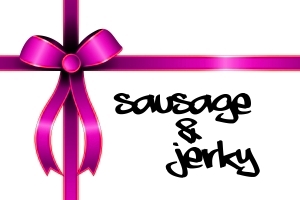 A GREAT GIFT FOR SOMEONE SPECIAL (OR YOURSELF!).
This great basket full of goodies includes:
*Please use the comment box to request your choice of sausage and jerky. If you do not indicate a preference we will create a "Butcher's Choice" selection for you. There are no returns accepted for "Butcher's Choice" orders.
Please use the following to request your preference. You may mix types and flavors of sausage but please do so in 1 pound selections.
Sausage Types: Pan, Link or Smoked
Sausage Flavors: Mild, Medium, Hot, Jalepeno & Cheese or Vidiala Onion
Beef Jerky: Peppered or Original
Please indicate your choice of sausage & jerky.
During the Summer, we limit the range of ground shipping to preserve product freshness. We apologize for any inconvenience.